I just read an amazing
blog post
from
Angiezilla's Boutique
. She stumbled across a new method of testing Bakelite. Most people test with 409, Simichrome or the hot pin test (NEVER DO THAT!). Turns out baking soda will give a positive result as well. It is quite easy. Just dampen a Q-Tip, dip it baking soda and rub gently for about 30 seconds. I put this to the test trying out different plastics. I used 2 items I knew were Bakelite and 2 that were not. And wouldn't you know it, it worked! By Jove, I think she has something! Check out the results below!
Apple Juice Bakelite hat pin tested positive
Cherry Red Lucite that could be mistaken as Bakelite tested negative
1930's coffee pot with black Bakelite handle tested positive. Many people know black Bakelite frequently gives a false negative result using other methods so this is a fantastic find!
Apple Juice Lucite that can also be mistaken as Bakelite gave a negative result
My verdict: This is a proven method. Baking soda is cheap and easily available unlike Simichrome and you don't risk the damage with 409 or the hot pin test (Did I mention to NEVER DO THAT?!) Not only did I get these results, many people have as well and shared it on her blog.
We should bow down to Angie and worship her for this amazing discovery!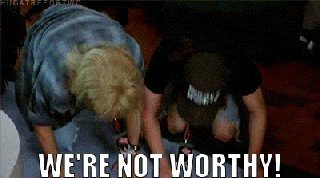 Or at least send her some brownies or something.
Next time you are unsure if your item is Bakelite pull out that baking soda and test it. Then thank the stars for Angie's awesomeness! (Is the praise a bit too much?)
You can read the full article
HERE
and make sure to share this information with the world!
Cheers!